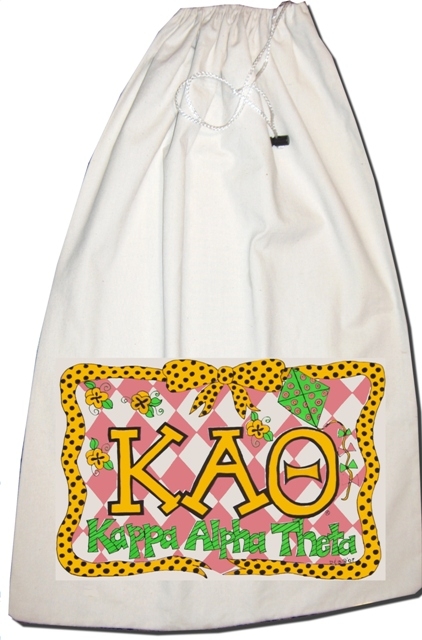 Click to enlarge image(s)
FREE SHIPPING on orders over $100.00.

This adorable Kappa Alpha Theta Sorority Laundry Bag makes the perfect gift for your big or little sister for any special occasion - initiation, her birthday, Christmas - or just to let her know how much you love her. Remember to also order one for yourself!

Our laundry bag is made of natural cotton canvas, with the Kappa Alpha Theta design silk screened on it.

The Kappa Alpha Theta Laundry Bag is 24" x 36", which makes it the perfect size to hold all of your dirty laundry!

You can add a name or a special message to this laundry bag using a fabric marker.


WE CURRENTLY HAVE 1 OF THESE LAUNDRY BAGS IN STOCK. BUNNIE AND BOWS, THE COMPANY THAT PRODUCES THEM, HAS DISCONTINUED THEIR LAUNDRY BAG LINE, SO WE WILL NOT BE ABLE TO GET ANY MORE OF THEM.