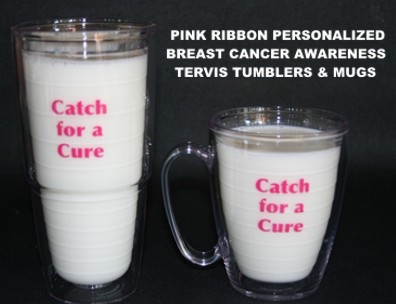 Click to enlarge image(s)
FREE SHIPPING ON ORDERS OVER $100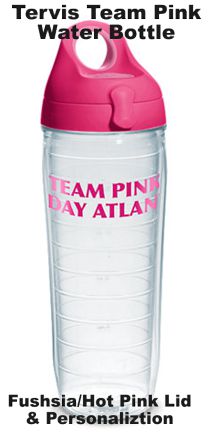 These Custom Breast Cancer Awareness Personalized Fuchsia/Hot Pink Tervis Tumblers, Mugs, Water Bottles make great gifts to honor someone you know who has fought the battle and won, or to honor a friend or loved one that you have lost to Breast Cancer.

Tervis Tumblers
*will keep your cold drinks colder
*will keep your hot drinks hotter
*will reduce condensation
*will prevent rings
*are shatterproof
*are GUARANTEED FOR LIFE
Our Personalized Tervis Tumblers (name, monogram, or text on the front) are available in the following sizes:
single 10 oz. tumbler = $17.99
single 16 oz. tumbler = $19.99
single 16 oz. mug = $17.99
single 24 oz. tumbler = $22.99
single 24 oz. water bottle with lid = $29.99

The prices listed above include the tumblers/mugs/water bottles personalized in block font in your color choice on the front.

For an additional $5, you can make these tumblers and mugs a very unique gift by adding the lucky recipient's name or initials to the back. Or, you may prefer to add up to 3 lines of personalized text on the back of all
tumbler sizes and mugs with a maximum of 13 characters (includes spaces) per line.

On the FRONT of water bottles, you can add a first name/nickname or 3 initials going straight across or 2 lines of text (max = 13 characters) . (EXCEPTION: WATER BOTTLES CAN NOT BE PERSONALIZED ON THE BACK.)

Gail's Personalized Gifts will donate a portion of each sale to breast cancer research.

To make this the perfect gift, add a slider travel lid to match your personalization for $3.99. We have the Tervis Tumbler Travel Lids available in 22 different colors for the 10 oz., 16 oz., and 24 oz. tumblers and for the 16 oz. mugs for $3.99 each. If your are ordering for BCA, a fushsia travel lid looks great with fuchsia personalization added Please go to our "Tervis Tumbler Travel Lids" page to add some of these lids to your order.

A lid is included with each water bottle ordered. If you are ordering a water bottle, select the lid color you want during checkout.

Because our Personalized Tervis Tumblers are a "Special Order" and made just for you, they are non-refundable. Please allow up to 10 business days for in-house production on your "special order" + shipping time to you.