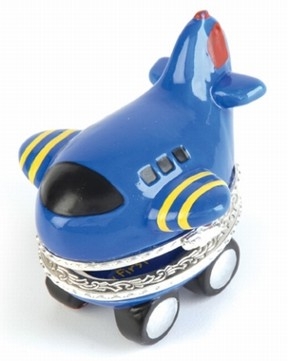 Click to enlarge image(s)
FREE Shipping on orders over $100.00!
The "Oh Boy" Airplane "My First Tooth" Treasure Box is the perfect gift for any Little Flyer - and a gift his parents or grandparents will treasure always.

PRICE = $14.00
SALE PRICE = $12.00 EACH

This adorable ceramic hinged airplane treasure tooth box is painted blue, and the wings are accented with yellow stripes. There are 4 black tires supporting this plane. When you open this treasure 1st tooth box, you see "My First Tooth" painted inside in yellow. What a wonderful way to keep that special "First Tooth" secure!

YOU MAY ALSO LIKE OUR OTHER "OH BOY" AIRPLANE GIFT ITEMS FROM MUD PIE.

TO SEE ALL OF THESE ITEMS, PLEASE GO TO OUR "PLANE CRAZY" COLLECTION PAGE.

WE ONLY HAVE 2 OF THESE TOOTH BOXES LEFT IN OUR STOCK - AND WE CAN NOT RESTOCK THIS ITEM BECAUSE MUD PIE IS NO LONGER PRODUCING IT.