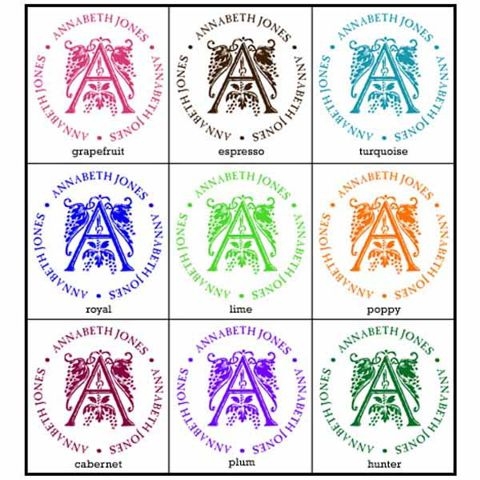 Click to enlarge image(s)
Do you want to make your personalized stamp gift extra special? Then add an additional stamp ink pad in a different single color or add a two-color ink pad to your gift.

The single color ink cartridges retail for $7.50 each. They are available in the following single colors:

*grapefruit pink (shade of hot pink)
*lime green
*espresso brown
*turquoise
*royal blue
*poppy orange
*cabernet (shade of deep red)
*holiday red
*holiday green
*hunter green
*plum purple

The two-color ink pads retail for $10. They are available in the following colors:

*black and lime
*lime and pink
*black and pink
*turquoise and lime
*brown and pink
*brown and turquoise
*black and cabernet
*royal and orange
*orange and pink
*hunter and red
*red and hunter
*orange and black
*black and orange

Order several different colors to give you even more options when using your personalized stamps.

The pictures below give you a close-up view of the stamp colors.