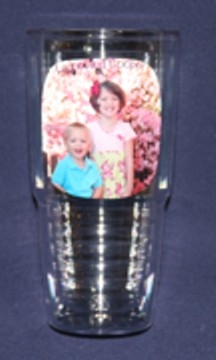 Click to enlarge image(s)
FREE SHIPPING ON ORDERS OVER $100.
TO SEE ALL OF OUR PERSONALIZED TERVIS TUMBLER OPTIONS, PLEASE GO TO OUR "PERSONALIZED TERVIS TUMBLER PRODUCTS" PAGE.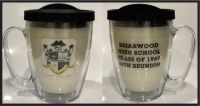 Give the perfect gift for any occassion - Personalized Photo and Patch Tervis Tumblers and Mugs and Water Bottles.

These personalized photo and patch tumblers and mugs and water bottles make great gifts for Mother's Day, Father's Day, Grandparent's Day, graduations, birthdays, weddings, housewarmings, "Thank You", or Teacher Appreciation gifts. They make perfect fundraiser or souvenirs for any special function - wedding Thank You gifts, Bridesmaids' gifts, teacher gifts, class reunions, and more.

The Tervis Tumblers with a special photo or patch inserted in the front would make a "priceless" gift for Mother's Day, Father's Day and Grandparent's Day. In the picture on the top, see our 24 oz. Big T tumbler that made a treasured gift for Father's Day - because it had a picture of his precious children on the front. In the pictures in the top right, you see that this tumbler was personalized on the back with the message "Happy Father's Day 2008". This gift will be cherished each time this dad uses his tumbler, and he is still using today! There are also pictures of other picture/patch insert tumblers above.

Your gift will be a huge hit at an anniversary party if you give a set of these tumblers to the "bride" and "groom". Have a photo of them taken on their wedding day inserted in the front of these tumblers, then add a special message to the back of the tumblers. You will be so proud to give this unique gift - and know that you are giving them something they will really use and appreciate!

Do you know someone that owns an airplane, boat or vacation home? A Tervis Tumbler with a photo insert or a special patch on the front and a name, initials, or short message on the back would be a gift that they would be proud to use and show off. In our pictures above, you can see the 3 Tervis retired 17 oz. mugs with photo inserts of airplane owners standing next to their beloved planes.

Tervis Tumblers
*will keep your cold drinks colder
*will keep your hot drinks hotter
*will reduce condensation
*will prevent rings
*are shatterproof
*are GUARANTEED FOR LIFE

Our Personalized Tervis Tumblers & Mugs & Water Bottles with Photo or Patch Inserts are available as follows:
single 10 oz. tumbler = $16.99
single 16 oz. mug = $18.99
single 16 oz. tumbler = $18.99
single 24 oz. (Big T) tumbler = $21.99
single 24 oz. water bottle with lid included (you will select lid color during checkout) = $26.99

Each price above includes the tumbler, mug or water bottle (lid included with water bottle) with your photo or patch inserted during production at the Tervis factory.

We also have the Tervis Tumbler Travel Lids with slider openings available in 22 different colors.
The 24 oz. lids also fit the 16 oz. mugs.


And we also have some in red and black for the retired 17 oz. mugs. Please go to our "Tervis Tumbler Travel Lids" page to add them to your order.

For an additional $5 per tumbler/mug/water bottle, you can make this gift really unique by adding a first name, initials, or a short message to it. The mugs and tumblers will be personalized on the back, and the water bottles will be personalized on the front down below your picture or patch.

First Names may be added in script or block font. Initials may be added in block font, script font, or a circle monogram (3 initials).

If you would prefer to add a short message to the back of the tumblers and mugs, you may add a maximum of 3 lines in block font. The maximum number of characters per line that can be added (including spaces) is 12.

On the water bottles you may only add a first name, 3 initials going straight across (last name initial at the right end), or 1 line of text with a maximum of 12 characters on the line.

After you place your order online for these tumblers/mugs/water bottles, you need to email your picture to me at gailsgifts@windstream.net OR mail the photos or patches you want inserted to: Gail's Personalized Gifts, 5428 Copper Creek Road, Flowery Branch, GA 30542. Please send us 2 copies of the photo or two patches if you are ordering 2 tumblers/mugs/water bottles.

The MAXIMUM size of the photos or patches that can be used for these products are as follows:
16 oz. mugs: 2.5" tall x 2.5" wide
16 oz. tumblers: 3.00" tall x 3" wide
24 oz. tumblers: 2.5" tall x 2.5" wide
water bottles: 2.75" tall x 2.75" wide

Please trim your photos or patches to the size and shape that you want them before you mail or email them to us.

Once we receive your photo or patch, we will complete the necessary order form and process your order at the Tervis Tumbler factory. Tervis Tumbler will ultrasonically seal your photos or patches between the 2 walls to create a top-quality tumbler that will last a lifetime. If you need assistance designing your custom tumbler, please email me a gailsgifts@windstream.net or call me at 678-410-4340.

These personalized tumblers/mugs/water bottles are made just for you and therefore considered Special Order, so they are non-refundable. Please allow up to 15 business days for in-house production on your "special order" (after the factory appoves your patch or picture) + shipping time to you.