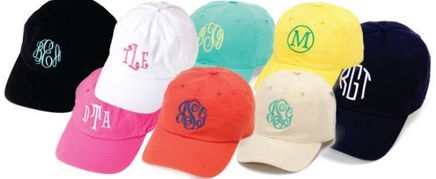 Click to enlarge image(s)
FREE Shipping on orders over $100.00!
What makes a really cute gift for any occasion? Our Personalized Caps!

Think about how cute it will be to have a personalized cap to wear on your picnic or trip to the beach, every time you go to the pool or the ball park, to make a quick trip to the store on a "bad hair" day, or to give to someone for a special birthday gift.

Personalize caps make terrific gifts for Nurse Appreciation and Teacher Appreciation gifts. And Mom would love one!

These hats can now be personalized with the GREEK LETTERS for your sorority. Order a hat for each sister to wear at your next campus event!

They also make perfect gifts for each of your bridesmaids and perfect host & hostess gifts and terrific graduation gifts. And the groomsmen love them too!

The Hot Pink caps are great to bring awareness to Breast Cancer.

The caps are available now in 12 color choices:
*Black
*Coral (currently out of stock)
*Hot Pink (currently out of stock)
*Mint (currently sold out)
*Navy
*White
*Yellow (SOLD OUT)
*Houndstooth
*Orange (currently sold out)
*Purple
*Garnet
*Red

Price = $11.00 Each Blank

For the $8.00 embroidery fee you may add your name, text (MAXIMUM of 13 letters/spaces), single initial, or 3 initial monogram in your choice of font and thread color. Or you may add the Greek letters for your sorority (up to 3 Greek letters).

These caps are approximately 19.5" - 22" around the head, made of soft cotton and have an adjustable strap with a metal clip. There is also an open space in the back of the cap to fit your pony tail!

Please allow up to 3 business days for in-house production time if you do NOT want your cap personalized or up to 4 business days if you do want it personalized + shipping time to you.

Our pictures above show close-ups of each of these personalized caps, and each picture is labeled with the font and thread color used on that cap.

We will provide a Gift Certificate for your order if you prefer to let the gift recipent pick out the color and personalization of their new hat. Email us at gailsgifts@windstream.net for more information.