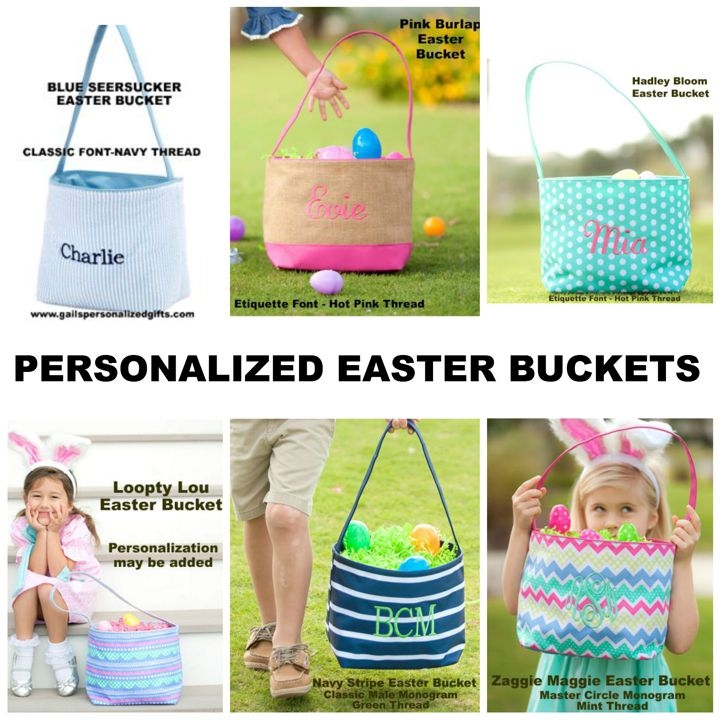 Click to enlarge image(s)
FREE SHIPPING ON ORDERS OVER $100
What are the trending Easter Buckets this year? PERSONALIZED Easter Buckets, of course!

Think about how cute it will be to have your little ones use their Easter Buckets with their names, initials, or monograms on the front for all of the Easter Egg Hunts they attend and to put out for the Easter Bunny. And you can also use it for many Easters in the future.

They also make PERFECT gifts for anyone that likes to decorate for Easter.

ALL EASTER BUCKETS:
*14" L x 6" W x 8" H
*Easy-to-Carry Handle
*Inside Lining
RETAIL PRICE = $14.00 EACH (BLANK)
20% OFF SALE PRICE = $12.00 EACH (BLANK)
DESIGNS/PATTERNS AVAILABLE:
*Burlap with Hot Pink Trim (SOLD OUT)
*Blue & White Seersucker (SOLD OUT)
*Hadley Bloom
*Loopty Lou
*Navy Stripe (SOLD OUT)
*Zaggie Maggie

For the $10 embroidery fee (but we have discounted it to $8), you may add a name or text (MAXIMUM of 8 letters), single initial, or 3 initial monogram in your choice of font and thread color.

Please allow up to 3 business days for in-house production time if you do NOT want your Easter Bucket personalized or up to 5 business days if you do want it personalized + shipping time to you.

Our pictures show close-ups of each of these Easter Buckets, and each picture is labeled with the font and thread color used on that Easter Bucket if it is personalized..
SEE OUR NEW 2019 EASTER PRODUCTS