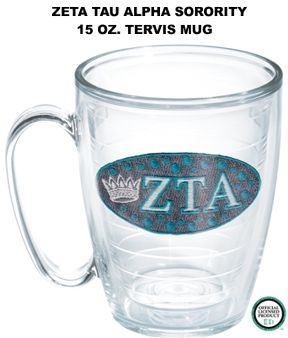 Click to enlarge image(s)
FREE Shipping on orders over $100.00!
These Zeta Tau Alpha Sorority Tervis Tumblers, Mugs and Water Bottles make perfect gifts for your sorority sisters!
Tervis has their Greek Sorority product line for the following sororities: Alpha Delta Pi, Alpha Xi Delta, Delta Delta Delta, Delta Zeta, Kappa Alpha Theta, Kappa Delta, Kappa Kappa Gamma, Phi Mu and Zeta Tau Alpha.
Our GREEK Zeta Tau Alpha Sorority Tervis Tumblers, Mugs and Water Bottles make great Big Sister/Little Sister gifts, gifts for new pledges, graduation gifts, birthday gifts, Christmas gifts, and gifts just to show your special sorority lady how much you love her.

Alumni sorority members would also be thrilled to have one of these ZTA Tumblers.

You will be so proud to give this unique gift - and know that you are giving a gift she will really use and appreciate!

They are GENUINE Tervis Tumblers (they come to you straight from the Tervis Tumbler factory), so they are microwave and dishwasher safe, keep drinks hot or cold longer, have a LIFETIME GUARANTEE - and they're Made in the USA!

The Zeta Tau Alpha Sorority Tervis Tumblers are available in the following sizes:
single 16 oz. mug with handle = $18.99 white lid included
single 16 oz. tumbler = $18.99 white lid included
single 24 oz. Big T tumbler = $21.99 white lid included
single Water Bottle with lid = $26.99 turquoise lid included

To help avoid spills, you may also want to order more of the Tervis Travel Lids with sliders available in 12 different colors.

You can make these tumblers and mugs a very unique gift by adding the lucky recipient's first name, initials, or a circle monogram to the back. The water bottles may not be personalized on the back, but you may add a first name to the front of the water bottle (below the sorority patch). The personalization charge is $6.00 per tumbler/mug/water bottle.

These personalized products are made just for you and therefore considered Special Order, so they are non-refundable. Please allow around 10 business days for in-house production on your "special order".

In the picture above, you can see how cute the Zeta Tau Alpha 16 oz. Tervis Mugs are. You can also see the ZTA 16 oz., 24 oz. Big T tumbler, and the ZTA Tervis 24 oz. Water Bottle.

If you are interested in placing a group order (10 or more), please contact us at gailsgifts@windstream.net BEFORE you complete this order so that we may discuss our discount pricing options with you. The more you order at the same time the less you pay per item.